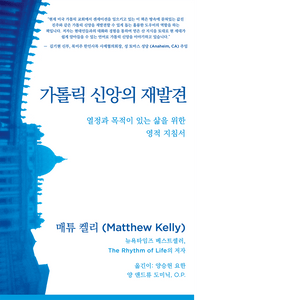 At a time when many Catholics are disillusioned, questioning their faith, and filled with doubts about the relevance of Catholicism in the modern world, the voice of one man cries out to the world's largest faith community with a clarity that is rare and inspiring.
Rediscover Catholicism takes us on an adventure of life-changing proportions. Beginning with our common yearning for happiness, Kelly reveals the essence of authentic Catholic spirituality while addressing some of the most important questions we face today both as individuals and as a Church.
Are you happy?
Are you living an authentic life?
Do you really think you will find happiness where you are looking?
How would you like your life to change?
What is God's dream for your life?
Why have so many people rejected Catholicism?
What does it mean to walk with God in the modern world?
Do the saints have anything to offer you?
Is Jesus still relevant?
Can the ancient traditions of Catholicism help us deal with the modern challenges of our lives?
In each generation a leader comes forth who is able to bring Christianity to life in a way that revitalizes individuals, communities, and the universal Church. Once you experience his bold, brilliant, practical, and inspiring style, you will soon understand why so many people consider Matthew Kelly to be one of the great spiritual voices of our times.
Over the past twenty years, Matthew Kelly has seen more of the world than most presidents and more of the Church than most bishops. Now, in this unique and timely book, he proposes that Catholicism is not a lifeless set of rules and regulations, but a way of life designed by God to help each person reach his or her full potential. With remarkable insight, Kelly dispels dozens of the myths that surround the rejection of Catholicism today and provides a profound and practical vision of what will lead the Catholic Church to thrive again in the future.
Rediscover Catholicism is quickly becoming the most read Catholic book of our times. From the spell-binding opening story, Kelly grips his readers and takes them on a life-changing journey to rediscover the genius of Catholicism.
There are many Catholics and non-Catholics who do not want to rediscover Catholicism. Others think that religion, and Catholicism in particular, has no place in the modern context. I will admit that Catholicism is old. But let me ask you a question. If you found a really old treasure map would you throw it away just because it was old? No. The age of a treasure map doesn't matter. What matters is whether or not it leads to treasure. Catholicism is a treasure map. It may be old, but it still leads to treasure. Let's rediscover it together... and help others to do the same.
God always wants our future to be bigger than our past. Not equal to our past bigger, better, brighter and more significant. God wants your future and my future, and the future of the Church, to be bigger than the past. It is this bigger future that we need to start to envision and imagine.
One of the most incredible abilities God has given the human person is the ability to dream. We are able to look into the future and imagine something better than it is today, and then return to the present and work to make that richly imagined future a reality. Who is doing this for the Church? Together, let's start to envision an incredible future for the Church.